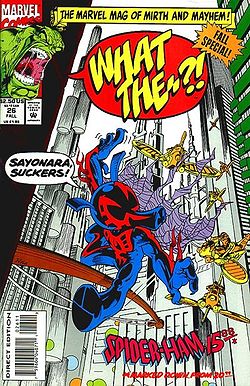 Spider-Ham 15.88 is the parody of Spider-Man 2099 in the Spider-Ham universe. Little is known about him or his identity's life, except they they are both super-hero and civilian, much like their counterparts: Spider-Ham and Peter Porker.
RealName = Piguel O'Malley
CurrentAlias = Spider-Ham 15.88
Identity = Secret
Alignment = Good
Universe = Earth-8311
Citizenship = American
MaritalStatus = Single
Parody Of...
Edit
Spider-Man 2099. The digits 15.88, however, is not a year. It's a humurous take on the price of ham.
Appearances
Edit
Spider-Ham 15.88 has only appeared in What The -- ? #26.
Alternate Version
Edit
Spider-Ham 15.88 is the future's alternate version of Spider-Ham.