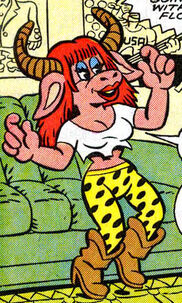 Mary Jane Waterbuffalo is a parody of Mary Jane Watson. She is possibly the girlfriend (or wife) of
Spider-Ham
.
Parody Of . . .
Edit
Mary Jane Watson. They share the same hair color.
Alternate Version
Edit
There is an alternate version of Mary Jane Waterbuffalo known as Mary Crane Watsow. Both appear in seperate Spider-Ham comics.
Appearances
Edit
Mary Jane Waterbuffalo has appeared in Marvel Tails Starring Peter Porker, the Spectacular Spider-Ham #1. It is unsure whether she reappears in other Spider-Ham comics, because she was (possibly) replaced with a newer optional character: Mary Crane Watsow.