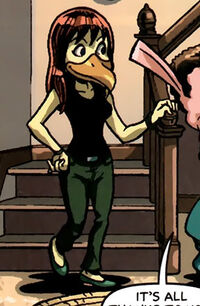 Mary Crane Watsow is an alternate version of
 Mary Jane Waterbuffalo
. She is also the newer version of
Spider-Ham
's (possible) wife or girlfriend, as well as being a supporting character in the Spider-Ham universe. She is a crane.
Parody Of . . .
Edit
Mary Jane Watson. They also share the same hair-color (like Mary Jane Waterbuffalo).
Appearances
Edit
Mary Crane Watsow has appeared in Amazing Spider-Man Family #4 and the Spider-Ham 25th Anniversary Special #1.
Alternate Version
Edit
Mary Crane Watsow is an alternate, if not replacement, version of Mary Jane Waterbuffalo, an original Spider-Ham character. Neither have appeared since.