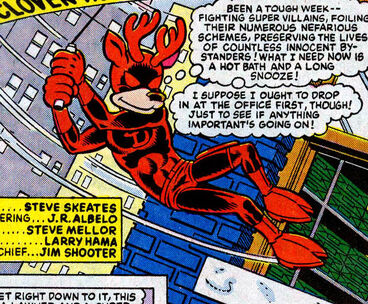 Deerdevil is a fellow super-hero alongside
Spider-Ham
. He is a supporting character in the Spider-Ham universe. He is a deer.
Parody Of . . .
Edit
Daredevil.
Similarities to Daredevil
Edit
Indirect Alternate Version
Edit
An indirect alternate version of Deerdevil was shown in What The--?! #8. He was known as Scaredevil. However, this alternate version of Deerdevil is not an animal.
Appearances
Edit
Deerdevil originally appeared in a Marvel Tails comics (a comic in which Spider-Ham would also star in) before being shown in Peter Porker, the Spectacular Spider-Ham Comic #1. He hasn't appeared since, however.